Welcome to Berwick Township
BERWICK TOWNSHIP TRICK OR TREAT
OCTOBER 31, 2020, 6:00 P.M. – 8:00 P.M.
TURN ON PORCH LIGHT!
---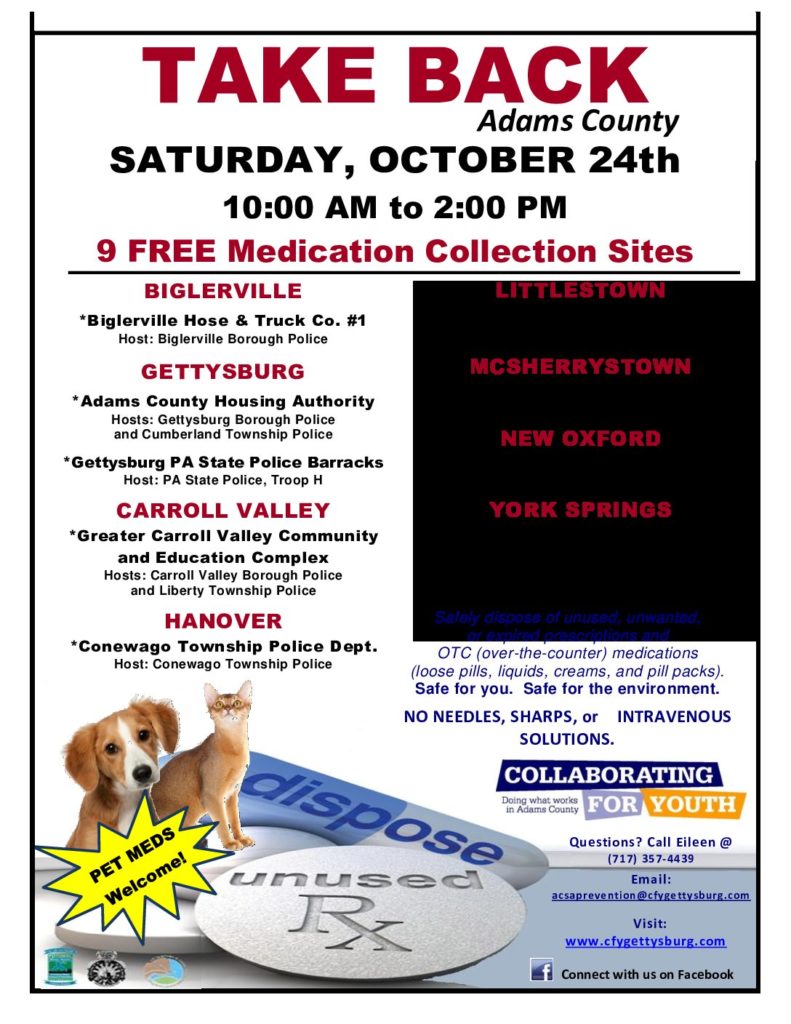 ---
House/Mailbox Numbers
The house number of the dwelling address shall be displayed on the house and mailbox to facilitate prompt identification of your location by emergency personnel. (Ordinance No. 19)
---
EXTENDED TAX PAYMENT DEADLINES
Due to the current COVID-19 Pandemic situation, the Adams County Commissioners are extending tax payment deadlines for 2020 Adams County Real Estate and Per Capita Taxes as follows: to pay at 2% DISCOUNT until JUNE 30, 2020; to pay at "PAR" JULY 1, 2020 through OCTOBER 31, 2020; from NOVEMBER 1 and thereafter, a 10% penalty will be added to the "PAR" amount. 
At this time, all Adams County Tax Collector offices are closed until further notice. Payments can be mailed or put in the slot of the door. If requesting a receipt, please include a self-addressed, stamped envelope. Please contact Deb Becker at 717-624-3130 for actual tax collector office hours after the State stay-at-home orders are lifted. Tax payers will continue to be encouraged to use mail or the door slot to reduce face-to-face contact at that time.
Please mail to:
Deborah A. Becker
1025 Race Track Road
Abbottstown, PA 17301
---
Resurfacing Project on Route 94 in Adams County Resumes Next Week
The Pennsylvania Department of Transportation (PennDOT) announced today that, weather permitting, a resurfacing project will resume next week on Route 94 in Adams County.
Beginning Tuesday, May 26, the contractor will resume milling, paving, drainage upgrades, new guiderail and pavement markings on Route 94 from Green Springs Road to Pine Run Road in Hamilton Township. There will be lane restrictions under daylight flagging. Motorists should expect delays.
This project consists of milling and resurfacing the existing roadway and shoulders, drainage, guide rail, and base repairs on Route 94 from just north of the intersection with Green Springs Road (Route 2033) to the intersection with Berlin Road (Route 1019) in Berwick, Hamilton, and Oxford Townships, and on Route 194 from just south of Town Circle to just north of the intersection with Short Cut Road (T-549)  in Berwick and Hamilton Townships and Abbottstown Borough. Work on Route 194 was completed last year.
Work on this project will be in accordance with Center for Disease Control and State Department of Health guidance as well as a project-specific COVID-19 safety plan, which will include protocols for social distancing, use of face coverings, personal and job-site cleaning protocols, management of entries to the jobsite, and relevant training.
For more information on projects occurring or being bid this year, those made possible by or accelerated by the state transportation funding plan (Act 89), or those on the department's Four and Twelve Year Plans, visit www.projects.penndot.gov. Motorists can check conditions on more than 40,000 roadway miles by visiting www.511PA.com. 511PA, which is free and available 24 hours a day, provides traffic delay warnings, weather forecasts, traffic speed information, and access to more than 950 traffic cameras, 103 of which are in the Midstate. 511PA is also available through a smartphone application for iPhone and Android devices, by calling 5-1-1, or by following regional twitter alerts accessible on the 511PA website.
---
PLANNING COMMISSION VACANCY
There is currently a vacancy on the Berwick Township Planning Commission. If interested in serving, please send a letter of interest to office@berwicktwp.org.,or if you have any questions please contact the office at 717-632-1829.
---
Frequently Asked Questions
WHAT IS THE DECENNIAL CENSUS?
Every 10 years, the federal government conducts a population count of everyone in the United States. Data from the census provide the basis for distributing more than $675 billion in federal funds annually to communities across the country to support vital programs—impacting housing, education, transportation, employment, health care, and public policy. They also are used to redraw the boundaries of congressional and state legislative districts and accurately determine the number of congressional seats each state has in the U.S. House of Representatives.
WHY IS IT IMPORTANT TO ME?
Responding to the census is not only your civic duty; it also affects the amount of funding your community receives, how your community plans for the future, and your representation in government. Specifically, data from the 2020 Census are used to:
Ensure public services and funding for schools, hospitals, and fire departments.
Plan new homes and businesses and improve neighborhoods.
Determine how many seats your state is allocated in the House of Representatives. The next census will take place in 2020. Beginning in mid-March, people will receive a notice in the mail to complete the 2020 Census. Once you receive it, you can respond online. In May, the U.S. Census Bureau will begin following up in person with households that haven't responded to the census. In 2020, for the first time ever, the U.S. Census Bureau will accept responses online, but you can still respond by phone or mail if you prefer. Responding should take less time than it takes to finish your morning coffee.
HOW CAN I RESPOND?
WHEN WILL I COMPLETE THE CENSUS?
WHAT INFORMATION WILL BE REQUESTED?
The decennial census will collect basic information about the people living in your household. When completing the census, you should count everyone who is living in your household on April 1, 2020.
WHAT INFORMATION WILL NOT BE REQUESTED?
The Census Bureau will never ask for:
Social Security numbers.
Bank or credit card account numbers.
Money or donations.
Anything on behalf of a political party. Strict federal law protects your census responses. It is against the law for any Census Bureau employee to disclose or publish any census information that identifies an individual. Census Bureau employees take a lifelong pledge of confidentiality to handle data responsibly and keep respondents' information private. The penalty for wrongful disclosure is a fine of up to $250,000 or imprisonment for up to 5 years, or both. No law enforcement agency (not the DHS, ICE, FBI, or CIA) can access or use your personal information at any time. Data collected can only be used for statistical purposes that help inform important decisions, including how much federal funding your community receives. WHERE CAN I GO TO LEARN MORE? Or go to Adams County's 2020 Census web page:
You can learn more about the 2020 Census by visiting 2020census.gov.
The Census Bureau has a robust cybersecurity program that incorporates industry best practices and federal security standards for encrypting data.
WILL MY INFORMATION BE KEPT CONFIDENTIAL?
---
LEAF COLLECTION UPDATE
In the coming weeks, you will see our "new to us" leaf collector out on the roads. Our main goal this fall is to clear leaves out of the gutters and banks along our roads. We will not have a formal leaf collection schedule in place for this year. We will spend this fall working out the best route to cover all roads, and the time it will take. We will have a schedule for collection in place next year. In the meantime, if you see us out and about in your area, feel free to push leaves in our direction. We will post another update when the schedule is formalized for 2020.
---
2019 Pension Disclosure Statement
FACEBOOK
If you use Facebook please visit the link below and "Like" our new township Facebook page. Social Media has become an ever increasing part of our lives and we wish to utilize this tool to issue public notices and announcements. When we make these announcements please share them with neighbors who may not use Facebook. Thank You.